My name's Rebecca and I think in terms of feelings.
An active member of the alternative community, I am passionate about embracing and working with neurodiversity, and promoting lifestyles and tools that enable individuals to thrive in their own way.
Poet, musician, bodyworker, yoga teacher and instigator of social harmony, my work is about raising awareness of inner realities in order to create new ways of meeting personal needs and responding to the world.
For the past twelve years, I've been investigating both privately and professionally the vast terrain of the inner landscape, including the emotional system, anxiety and trauma, hypersensitivity and the nervous system, self regulation, interpersonal relationships, pleasure and intimacy, and transforming ingrained beliefs and behaviours.
I truly believe that with the right awareness and guidance, the energy expended in negative or destructive patterns can be cultivated into something that supports our living and thriving.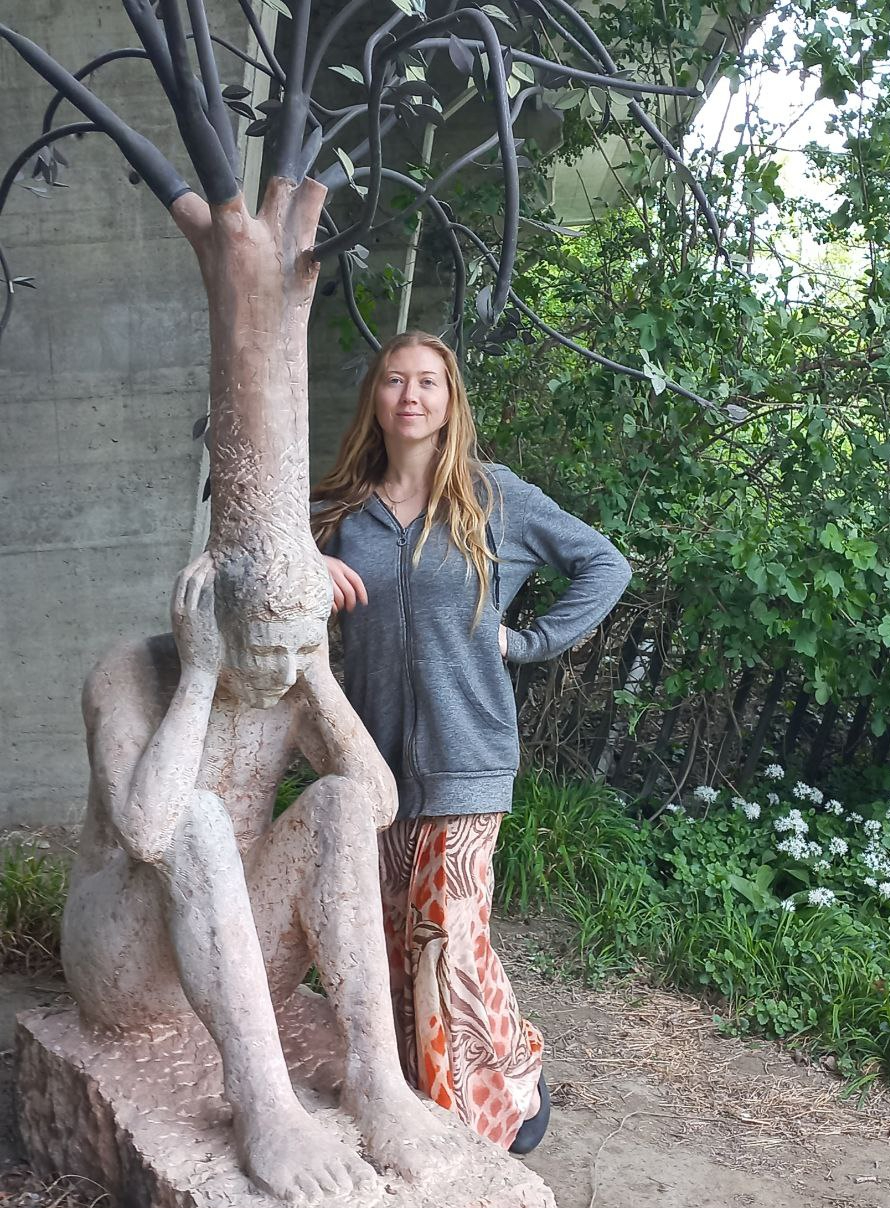 Influences and experiences
I know what it feels like to be a messy tangle of emotions and overwhelm, plagued by hypersensitivity and lost in a world that doesn't seem to make sense. I also know what it feels like to take agency over my life, make necessary changes, find support, and create inner and outer realities that I had never dreamed possible.
Frequent travel in South America (from 2011 to the present day) has strongly influenced me, through learning about andean traditions, working with the elements, and connecting with the earth. My attraction to latin communities is also due to the cultural acknowledgement and expression of emotions, which has brought me much insight to my own inner states.
Connection to nature, through studies and work in agro-ecology and community food production (2011 to the present day), is an intrinsic part of my life. Aware of the interconnections between all things, I place a strong importance on living as harmoniously with the earth as possible, and her wisdom and symbols are woven into my everyday experience.
Involved with music and poetry from an early age, playing, singing and creating are very necessary parts of my emotional well-being. Whether it's the emotional release, giving form to an inner state, or transforming suffering into beauty, I am strongly aware of the healing potential in all art forms.
Listening to yourself and your needs, of what feels right for you right now, and exploring what feels relevant to you, rather than following someone else's path or belief system…
…Whilst striving to do no harm, and acting for collective wellbeing.
Accepting other people's experiences and ideas even if they do not correspond to your own…
…Whilst defining and defending your own values, boundaries and place
Other key elements that influence my work
Tantra philosophy
Shamanism and earth based spirituality
The power of meditation
The LGBTQ community and alternative relationship styles
The power of physical touch in healing and grounding
The healing aspects of pleasure and intimacy
Yoga instructor – Durga's Tiger School, Ecuador (tantra, yoga, art and shamanism) 2016, 2017
Yoga therapy – Yoga inbound, Cusco 2016
Health coach – Institute for Integrative Nutrition 2017-2018
Sexological bodywork – Sea School of Embodiment, UK 2018-2019
Body poem – Sea School of embodiment, UK 2020
Diverse bodywork trainings from 2013 to present day (reiki, shiatsu massage, thai massage, therapeutic massage)
Leave me a message and I will get back to you as soon as possible.